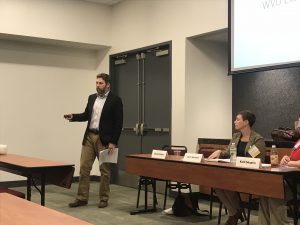 The WV Brownfields Conference & Main Street/ON TRAC Training
is West Virginia's premier redevelopment event that combines educational programs with networking opportunities between communities, local governments, development professionals, and service providers. The conference features expert panels, interactive workshops, technical training, and project case studies.
The Conference Planning Committee is currently seeking mobile workshop and breakout session ideas to fill limited slots for the 2019 Conference in
Morgantown, WV on September 10-12
. We are looking for session ideas focused on downtown development, remediation and site preparation strategies, re-use planning approaches, and redevelopment funding opportunities. Creative session formats, such as town hall or roundtable discussions and interactive workshops, as well as traditional panel presentations, are encouraged.
The deadline for session ideas is March 15, 2019. 
Interested entities can submit up to two presentation proposals. Speakers will be required to register at the reduced speaker rate of $50 by August 1, 2019.
Questions can be directed to Carrie Staton at
carrie.staton@mail.wvu.edu
.
Submit a Session Idea