Embracing the Future, Letting Go of the Past
Highlighting New Opportunities in Richwood
The future was vividly on display last Thursday when the Developer's Tour swung through Richwood. The Milltown Community Economic Development Group, in conjunction with Downtown Appalachia, hosted the event. The purpose of the tour is to bring together public and private funding entities with local current and potential business owners.
The tour began with a reception at the charming art gallery of Carma and Kevin Lawrenson in a restored historic building.   Stacy Raffo, Executive Director of the Mill Town organization and other state and local business leaders addressed the group on exciting opportunities for economic growth.  Jeromy Rose, a Richwood leader, talked about the surge in civic energy since the 2016 flood.  "We are on the cusp of a new decade," he said as he recounted all the times throughout Richwood's history when the town roared back stronger than ever after disasters like floods and fires.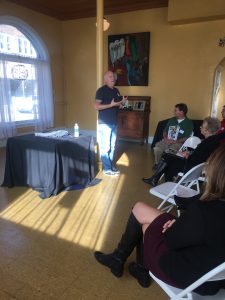 California transplant Chuck Tousseing addressed the crowd of nearly 50 on the potential for Richwood to become a small-scale Silicon Valley. "'Silicon Holler' is real," he said, as he explained how his non-profit Richwood Scientific has already trained close to 100 coders.  "I don't just want this to be a tourist town where people visit," he said, "I want it to be a place where people come to live."   Tousseing has already hired several of his trainees and he hopes to attract more of his contacts in California who might enjoy the high speed broadband and unique lifestyle Richwood offers.
There was a lot of talk about the future of trails and biking.  Ray Moeller of the New River Gorge Regional Development Association shared ideas of how a town can capitalize on bikers, cyclists and ATV riders. "You've already passed an ordinance in Richwood to allow ATVs in town. " He and others threw out ideas of how Richwood could build a niche economy around the needs of these kinds of tourists.  He mentioned the thriving local eateries and the Whistle Punk Grill & Taproom which will open in the spring in a 1920's building on Main Street.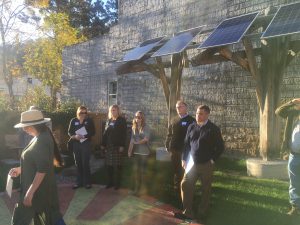 David Kahley and Eric Neice, are fund managers from the Pennsylvania, they invest exclusively in small trail towns in a three state region. Called The Progress Fund, Kahley's company has a successful history in small town businesses they've funded like pubs, taverns, cafes, bike shops, river outfitters, pottery shops, B&Bs, cabins and campgrounds, wineries, hostels, distilleries, microbreweries, artisan cheese shops and more.  "We've funded over $60 million in small business projects, " Kahley explained, "and we have a 2% failure rate."  Much of their success comes from the way they assist new business owners with both money and support.
Former resident David Ward sees the AIR BNB movement as something Richwood could profit from, he traveled from Miami for the event.  "I am seriously thinking of moving back here and working from home. With the low cost of living, amazing broadband and outdoor recreation this place is like a secret paradise."
After touring several buildings in town and learning about more potential projects and opportunities the tour ended up back at the corner of Main and Oakford for a reception.  Better things are coming and Richwood is ready to embrace the future.  As Jeromy Rose so aptly put it, "The good ole days are ahead of us."