FOCUS WV Brownfields Program

F

oundation for

O

vercoming

C

hallenges and

U

tilizing

S

trengths
The FOCUS West Virginia Brownfields Program, which ran from 2009 to 2013, provided mini-grants of up to $12,000 to communities, non-profits, and local units of government across West Virginia. These mini-grants were designed to catalyze new or existing brownfield redevelopment projects by providing seed funding for a variety of redevelopment activities. Eligible funding activities included predevelopment planning (such as stakeholder identification, site assessment/education), community development/capacity building, revitalization planning, and marketing.
Available site specific assistance for local government entities and non profit organizations with underutilized or abandoned sites with real or perceived environmental barriers to redevelopment included: 
$5,000 grant for Stage I: Site Analysis & Revitalization Planning
technical support
opportunity for additional $12,000 for Stage II: Site Design & Marketing Implementation
and more.
FOCUS WV Handbook
The Northern WV Brownfields Assistance Center (NBAC) completed its successful Foundations Overcoming Challenges and Utilizing Strengths (FOCUS) WV mini-grant program in 2013. Since its 2009 beginnings, the FOCUS program funded 41 brownfield redevelopment projects by providing $365,000 in direct funding assistance to local non-profits, municipal entities, and redevelopment authorities. These projects have leveraged over $7 million in additional project funding and have resulted in successful redevelopment across the state, including the redevelopment of the Adamston Flat Glass property into a Shop 'N Save in Clarksburg, the demolition and planned redevelopment of the former TS&T Pottery factory in Chester, and a hugely successful reforestation model for abandoned mine land properties in a partnership with the Wes-Mon-Ty RC&D and US Forest Service.
The FOCUS WV Handbook which was  unveiled in September at the 2013 WV State Brownfields Conference was created by the NBAC to compile the lessons learned, best practices, and unique redevelopment strategies identified over the four-year program. It also includes the model used successfully by FOCUS grantees, refined and improved over the years, which has now been enhanced through the WV Redevelopment Collaborative and will be the foundation for the upcoming BAD Buildings Program. The Handbook includes case studies of some of the most successful projects, highlighting the importance of brownfield redevelopment in West Virginia.
Click here to download your copy of the FOCUS WV Program Handbook.
2013 FOCUS+ Grantees
| | | | | |
| --- | --- | --- | --- | --- |
| Project Name | Grantee | Project Goals | County | Project Lead |
| Arthurdale – School Revitalization | Arthurdale Heritage, Inc. | Site Assessment, Business Feasibility Study | Preston | Jeanne Goodman |
| Thomas – Riverfront Park | New Historic Thomas | Development Plan |  Tucker | Lesly Suppes |
| Kingwood – Kern Valley RR Maintenance Facility |  Friends of the Cheat, Inc. | Site Survey, Engineering Plan, Construction Plan  |  Preston |  Aubrey Harris |
| Shinnston – Former City Garage |  City of Shinnston |  Master Development Plan |  Harrison |  Debbie Herndon |
| Wardensville – Cafeteria |  Town of Wardensville | Site marketing and development |  Hardy |  John Sayers |
| Davis – Highlander Village Inn | Woodlands Development Group |  Site Design and Development Planning |  Tucker | Dave Clark |
As of 2013, the FOCUS WV program has funded 41 projects in 35 communities in 20 counties across West Virginia. These projects have successfully leveraged over $7 million in additional project support as well as thousands of hours of citizen engagement and volunteer time. 
FOCUS WV Brownfields Program Sites (2009-13)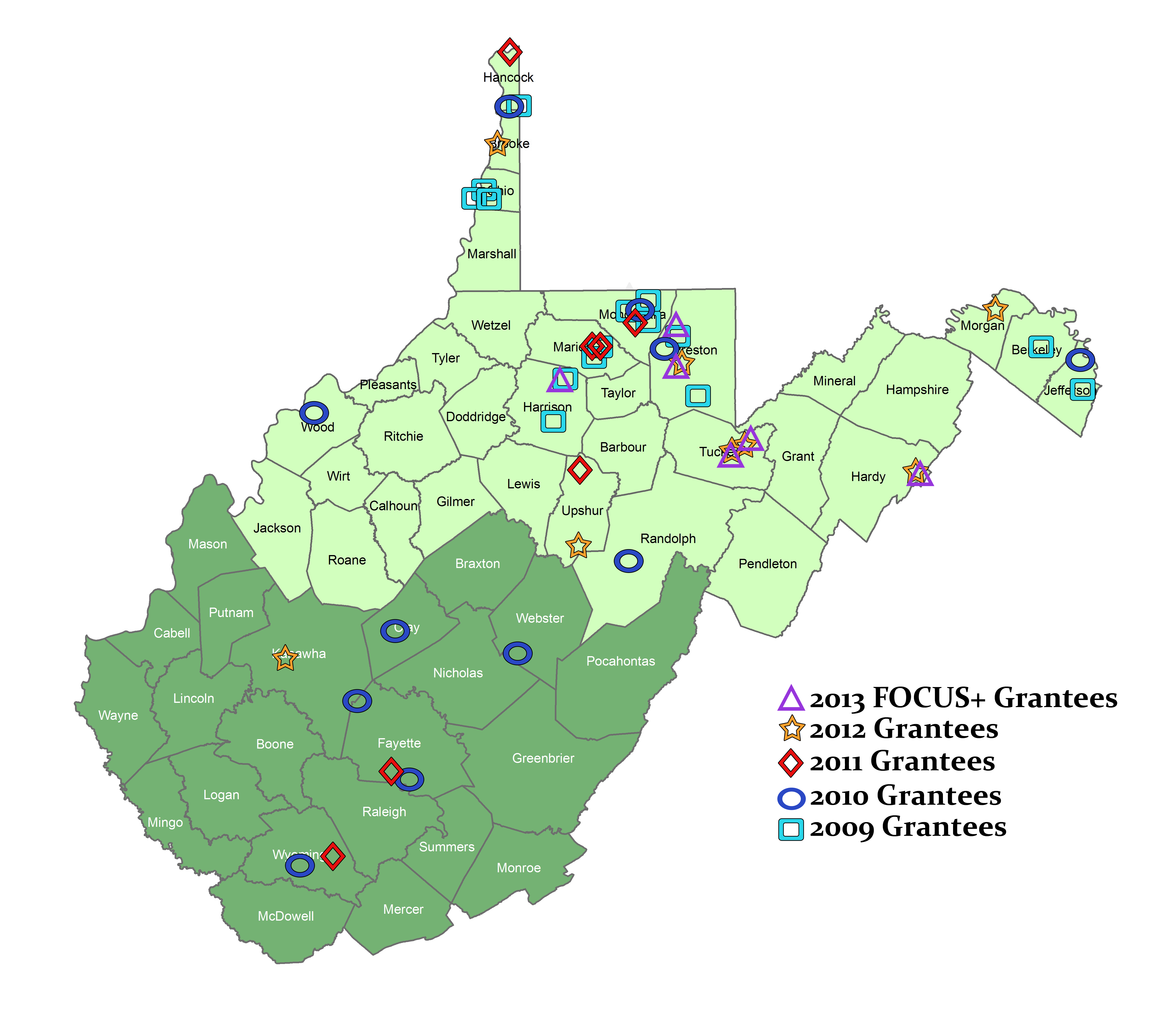 FOCUS WV Grants Awarded/ Funds Leveraged (2009-13)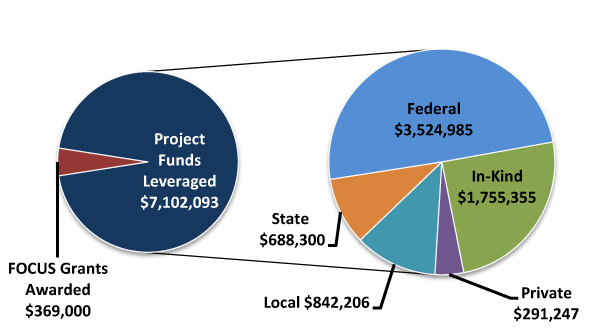 FOCUS WV Brownfields Program Profile Video
FOCUS WV Press Releases 
Press Release December 5, 2011
Brownfields Grants to provide momentum for eight projects statewide
Press Release January 21, 2010
Brownfields Grants to provide momentum for seven projects statewide
Press Release November 3, 2009
Brownfields Assistance Program Goes Statewide