2018 WV Brownfield Award Recipients
The West Virginia Brownfield Awards recognize the hard work and great achievements in brownfields redevelopment from across the state. These awards recognize individuals and communities who have made major contributions to the redevelopment of brownfields in West Virginia.
COMMUNITY ENGAGEMENT AWARD
The WV Brownfield Award in Community Engagement recognizes a partner or community who has demonstrated an exceptional commitment to community engagement, working closely with communities to identify and implement redevelopment priorities.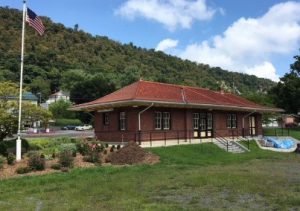 This year's recipient is the
North Berkeley Rail Trail Task Force.
The North Berkeley Rail Trail (NBRT) is a hiking and biking path that will follow an abandoned rail spur adjacent to Warm Springs Run. It is a phased project that will eventually extend to the Potomac River across from the C&O Canal National Park. Its southern terminus is the Depot yard in the Town of Bath, in Morgan County, West Virginia, which has been awarded a Brownfield grant for remediation.
The site was developed as a B&O rail spur prior to 1899 to carry members of high society to take the healing waters at Berkeley Springs on the north end of the Town of Bath. The land adjacent to the Depot was used for storage of railroad ties until 1913, and more recently used as a wood yard. Soils have been contaminated with compounds most often related to rail tie preservatives, soot, coal ash, and cinders.
The development of a trailhead to serve the NBRT necessitated remediation of the 2+ acres of vacant land. The project is multi-faceted, including redevelopment of the Depot, the planning and remediation for the NBRT, the upgrade of adjacent sidewalks to meet facilities access standards, and the creation of a nearby community park in 2012.
The NBRT Task Force is a committed volunteer group that has taken the lead in working with local government to secure grants and local financing and in overseeing remediation activities. Meeting regularly each month since 2015, the volunteers have been responsible for holding seven public workshops and attending bimonthly town council meetings to report progress. Local print and social media outlets are employed to inform and engage the public. Community events including trail blazing and stream cleanups have helped bring awareness and support for the project.
---
ECONOMIC DEVELOPMENT AWARD
The 2018 WV Brownfield Award in Economic Development recognizes a project or community partner that has demonstrated excellence in economic development on one or more brownfield site.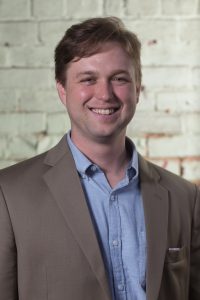 This year's recipient is
Brandon Dennison and the Coalfield Development Corporation.
From its humble beginnings in 2009 in Wayne County, Coalfield Development Corporation has grown into a major success story, transforming a vacant 92,000 square foot structure in Huntington into the West Edge Factory. This former brownfield is now being utilized for job training programs for unemployed and underemployed Appalachia residents for new careers, bringing new business opportunities into the region, and rehabilitating and/or re-purposing properties for new economic developments. Woodworking and other activities like solar panel installation training are also utilizing this facility. More recently, Coalfield Development Corporation received multiple grants to continue and expand worker training programs, including a $1.8 million EDA grant, and an $800,000 U.S. Department of Health and Human Services Administration grant. Multiple new businesses have been launched from these efforts, and "SustainU", a sustainable clothing manufacturer, was recently acquired to add to their extensive activities.
Brandon Dennison started the Coalfield Development Corporation and currently serves as the Chief Executive Officer. His vision of providing new job skills and bringing new business and jobs into the Appalachian coalfields is slowly coming to fruition.
Coalfield Development Corporation is not slowing down either. They're currently in the planning stages of obtaining another brownfield property, adjacent to their West Edge Factory that includes a more than 70,000-square foot building, to expand training and business expansion efforts.
---
ENVIRONMENTAL IMPACT AWARD
The Environmental Impact Award recognizes a project, organization, or community that has made a significant impact on the cleanup of environmental hazards through a single or multiple projects.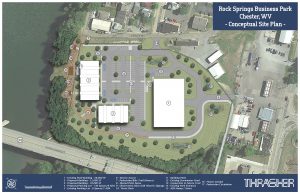 This year's recipient is the
TS&T Pottery Project
in Chester, West Virginia, home of the World's Largest Teapot. The Taylor, Smith, & Taylor Company (TS&T) was in operation from 1900 until 1981 in Chester, West Virginia. Like many other potteries in the early 1900s, TS&T made dinnerware, hotel ware, toilet sets, and specialty pieces. TS&T was purchased by Anchor Hocking in 1972 and continued to produce dinnerware until it closed in 1981. The site was used as a barge cleaning operation in the mid-80s and early 90s. With the closure of that business the large abandoned structures on the almost 9-acre site fell into disrepair due to vandalism, illegal asbestos removal activities. The site quickly became an eyesore and redevelopment attempts were thwarted due to the underlying soil contamination including lead from the deteriorated ceramic debris, asbestos issues and half demolished buildings.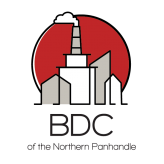 With the strong encouragement of the community, the Business Development Corporation (BDC) of the Northern Panhandle decided to acquire the site and tackle the challenge of revitalizing the site. Their investment over the past 6 years has leveraged over $1.1 million dollars in assessment and clean-up funds, allowing the BDC to raze the remaining structures and remediate the land. After removing more than 200 tons of lead contaminated soil, removing mountains of debris with asbestos contamination, and implementing engineering and institutional controls, the TS&T Pottery Site has received a Certificate of Completion from WVDEP's Voluntary Remediation Program. The clean-up of this waterfront site was 30 years in the making – and is the epitome of collaboration and persistence with positive environmental impacts directly impacting the quality of life for hundreds of residents and school children that live, work or play adjacent to the remediated property.
---
LOCAL LEADERSHIP
The Local Leadership Award recognizes a neighborhood, city, or county leader with a strong commitment to brownfield redevelopment.
This year's recipient is
Roberta Baylor
. Roberta
"Robbie"
Baylor is the Executive Director of the Preston County Economic Development Authority (PCEDA). Ms. Baylor has been the Executive Director of the PCEDA since 2005, and previously served as Grants Administrator for the Authority. Robbie is responsible for recruiting and retaining businesses and for promoting partnership growth to improve the economic climate in Preston County. Included in Robbie's efforts are infrastructure development where she has administered over $500 million for water and sewer projects in the county and brownfields redevelopment where she has received a $200,00 USEPA Brownfields Assessment Grant and a $2.2 million WVDEP AML Pilot Grant.
Ms. Baylor attended Kent State University in Ohio and has been designated as a Professional Community and Economic Developer by the Community Development Council. Her professional affiliations include the International Development Council and the Southern Economic Development Council. Ms. Baylor currently serves as the President of the West Virginia Economic Development Council and the Vice President West Virginia Hardwood Alliance Zone.
Ms. Baylor resides in Kingwood with her husband. Robbie has eight adult children and two grandchildren.
---
REDEVELOPMENT PARTNER
The Redevelopment Partner Award recognizes an individual, organization, agency, or other institution that has demonstrated a strong commitment to brownfield redevelopment and worked closely with the BACs to facilitate brownfield redevelopment across the state.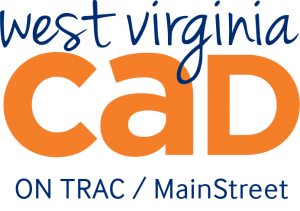 This year's recipient is Main Street WV. This year's recipient is Main Street WV. The Main Street program uses a common-sense approach to tackle the complex issue of downtown and neighborhood commercial district revitalization, capitalizing on the history and the resources of the community itself. Started in 1988, the statewide program works with certified communities throughout the state. The program provides technical services, such as design assistance and continuous training of board/committee members and program managers in the Main Street Four-Point Approach®. Main Street West Virginia also serves as a liaison between various state agencies and organizations with designated communities.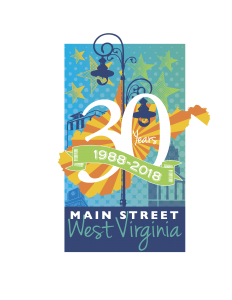 In 2013, Main Street WV partnered with the Northern WV Brownfields Assistance Center's WV Redevelopment Collaborative to focus on brownfield redevelopment projects in Main Street communities. Working with the NBAC through a grant from the Benedum Foundation, Main Street and ON TRAC coordinators helped to bring brownfield redevelopment into the consciousness of their participating communities. This has led to the broader understanding and education on brownfields to a new constituency and helped to increase the capacity for small, downtown organizations. This partnership has culminated in their participation as a partner and co-host in the WV Brownfields Conference and Main Street/ON TRAC Training since 2017 and in multiple local Main Streets, such as Martinsburg and Fairmont, taking on brownfield projects that would not otherwise have been on their radar. This partnership is a crucial connection for future development that looks at less traditionally considered sites with environmental contamination.