The West Virginia Brownfields Assistance Centers offer tools for communities, local governments, volunteers, and private individuals to address brownfields and abandoned and dilapidated buildings.
---
Abandoned and Dilapidated Buildings
BAD Buildings Program Toolkit

The BAD Buildings Model and Toolkit supports West Virginia communities with limited local capacity and no abandoned/dilapidated buildings program. Through the BAD Buildings Toolkit you can access tools and templates to survey and prioritize buildings, engage a property owner, prevent blight, build a partnership network, address demolition and deconstruction, develop a beautification program, or manage a brownfield. The site also includes success stories from other West Virginia communities and a wealth of links to funding resources.
Click here to view the BAD Buildings Program Toolkit.

---
Brownfields
Creating Your Stakeholder Engagement Matrix

Community issues are best solved with input from all of the stakeholder groups (ex.  abandoned and dilapidated property). To effectively address the issues, you will need to identify all potential stakeholder groups and find ways to get them involved. This activity will help you identify those stakeholders, understand how they can be involved, and find ways for them to contribute to the community solution.
Click here to download a copy of the Stakeholder Engagement Matrix.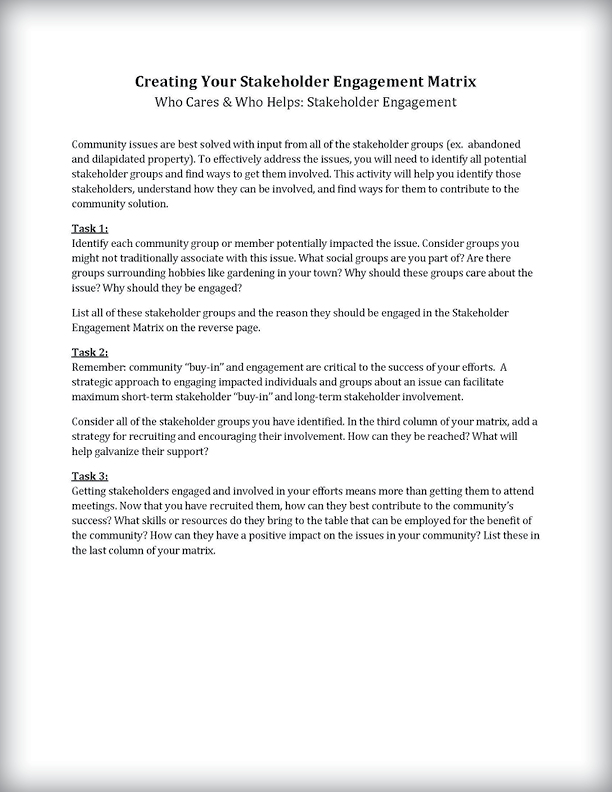 Preparing Your Project Resume

 Use the Project Resume Template to track and record the story elements of your project to showcase to stakeholders, project partners, and potential developers, investors, and funders.
Click here to download a copy of the Project Resume Template.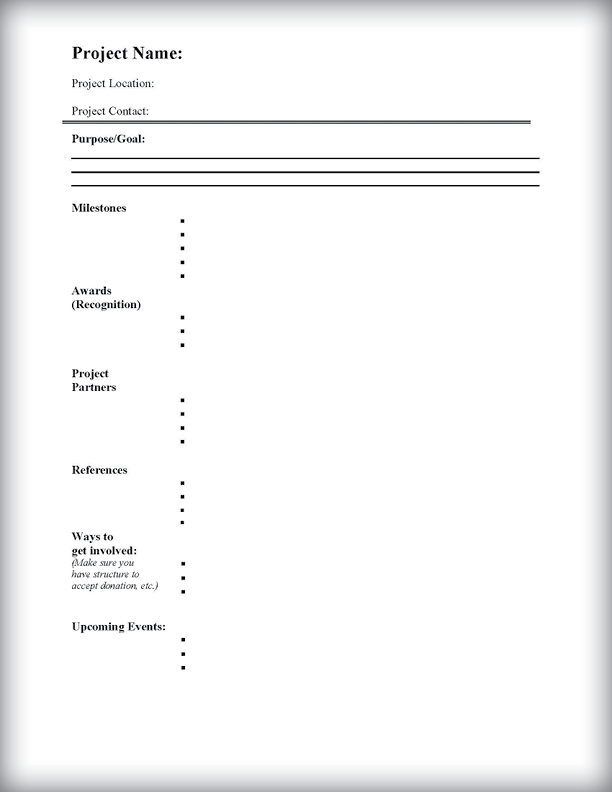 Decision Enhancer Tool
The purpose of the Decision Enhancer Tool (DET) is to facilitate the redevelopment of potentially contaminated underutilized and/or abandoned properties.  The DET will help communities consider land reuse options and think about future uses for complex sites that are economically and environmentally sustainable.  The DET will also help communities assess the strength and weakness of a particular property.  Then they will be able to proactively develop strategies from the data gathered and results generated in the DET that will lead to productive redevelopment of selected properties.
Completion of the DET will generate a compelling site story that will provide the crucial information in order to attract potential investors and developers to your site. Our Decision Enhancer Tool was developed in conjunction with SRA International, Inc. and will help communities and stakeholders with guidance on the redevelopment of particular properties.
Completion of the Decision Enhancer Tool will help communities and stakeholders:
answer the question: Why should we invest in 'this' site?
learn how to collect the site characteristic data needed for their 'site story'
improve their project's chance for success by determining options for its reuse
learn the vocabulary to attract developers to their community.
To learn how to use the DET, download the DET Handbook.  To begin collection of site information for your 'site story', download the DET worksheet.  If you have any questions, contact Luke Elser at the Northern WV Brownfields Assistance Center! 
                      Decision Enhancer Tool – Handbook (PDF)                        Decision Enhancer Tool – Worksheet (PDF)
EPA's

Prepared Workbook
The Prepared Workbook was created by the Environmental Protection Agency's (EPAs) Region 1 offices and its local government contractors to assist local governments that are considering the reuse of contaminate properties.  The Prepared Workbook is a risk management framework that evaluates actions that local governments may take to create a desired reuse of contaminated properties that it does not currently own.  The workbook provides documentation and guidance for evaluating these contaminated properties.  For more guidance and to learn how to use the Prepared Workbook, visit the EPAs Prepared Workbook website.